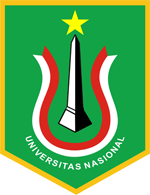 PROFILE of UNIVERSITAS NASIONAL
SEAL
On a green shield, the Proclamation Monument commemorating Indonesia's Independence in 1945 topped with a five-pointed star, stands in a red and white ribbon. It signifies:
The monument symbolizes the height of Indonesian struggle.
The five-star symbolizes Pancasila and the 1945 Constitution.
Red and white represent Indonesian national flag.
The shield represents the opportunity to study for the young Indonesian people who did not want to attend Dutch schools during the struggle for Indonesian independence.
Green background signifies the progress of science
ALMAMATER
The almamater carries the following meaning :
An institute of higher education as a center of excellence with a campus suited to scientific community.
An institute of higher education, a self-supporting round table, under the leadership of a Rector.
The four components of the academic community, that is faculty, administrators, students, and alumni, act as one with Almamater in serving the people and the nation to implement the three duties of higher education.
As a scientific community, the academic community is professional and nonpolitical.
The atmosphere of the institute and campus are harmonious, egalitarian, and familial in line with the spirit of Pancasila.
QUALITY STATEMENT
To graduate competent people dedicated to the noble ideas of the nation.
QUALITY POLICY
The Rector, faculty and adminsitrative staff of Universitas Nasional are committed to producing graduates who meet the highest standards and will fulfill the hopes and requirements of all its stakeholders by:
Developing and implementing a high quality management system based on the Guarranteed Standard ISO 9001:2008 and Quality Assurance System of Higher Education (SPM-PT).
Improving the competence of the human resources in academic, management, and entrepreneurial fields.
Enhancing the quality of performance in meeting the stated objectives.
FOUNDERS
1. Mr. S. Takdir Alisjahbana
2. Prof. Sarwono Prawirohardjo
3. Mr. Prajitno Soewondo
4. Hazil
5. Kwari Katjabrata
6. Dr. Djoehana
7. R.M. Soebagio
8. Mr. Adam Bachtiar
9. Ny. Noegroho
10. Drs. Adam Bachtiar
11. Dr. Bahder Djohan
12. Dr. Leimena
13. Ir. Abd. Karim
14. Prof. Dr. Soetopo Tjokronegoro
15. Mr. Ali Budihardjo
16. Poerwodarminta
17. Mr. Soetikno
18. Jr. TH. A. Resink
19. DR. Soemitro Djojohadikusumo
20. Noegroho
21. Seodjatmiko
22. H.B. jassin
23. Mochtar Avin
24. L. Damais
25. A. Djoehana
26. Nona Boediardjo
27. Nona Roekmini Singgih
GOVERNING BODY OF THE FOUNDATION FOR THE PROMOTION OF SCIENCES AND CULTURE (YAYASAN MEMAJUKAN ILMU DAN KEBUDAYAAN)
1. Chairman of Advisory Board: Dr. Muhammad Noer, M.A.
2. Chairperson of Executive Board: Dr. Drs. Ramlan Siregar, M.Si
3. Overseer: Drs. Asyathri Said Umar, M.Si